Hamilton School District will provide a learning environment where all students are successful and prepared to excel in an ever-changing society.

USD 390 Board of education will hold a special meeting on Monday, June 20 at 7:00 pm in the Board of Education office in the elementary school.

Good morning! We hope to see you this afternoon at 4:00 in the Hamilton School gymnasium for our graduation ceremony for our seniors and 8th grade promotion. Congratulations to both classes…we are proud of you!!

USD 390 has a part time/ possible full time position opening for Prek-6 music, 5/6th grade band, and high school band/choir. If interested, please send resume and cover letter to
snelson@hamilton390.net
.

USD 390 has a custodial and facilities maintenance position available. Hourly wage. 40 hours a week. To apply please send resume and cover letter to
mronen@hamilton390.net
.

Make plans to join your student - BREAKFAST with BUDDIES - May 10th 7-8am - Hamilton Cafeteria! Come enjoy a yummy breakfast with your student and get your day started off on the right foot! We can't wait for you to join us! Please RSVP to your child's teacher by Thursday, May 5th!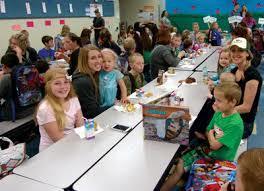 LOOK WHAT'S NEW!! New this year, READ and ROMP, for grades Prek-2nd grade students! Read and Romp is a reading and physical education integrated activity that will take place Tuesday, April 26th from 9-10am! Students will first be read a book and then led through a game that correlates with the book. We are looking for parents/grandparents/ friends/ community members to help with this FUN event! Please contact Montana Hansel (librarian), Parker Gates (physical education), or Stephanie Nelson (principal) if you would like to volunteer! 620-678-3651 We can't wait for you to join us for this FUN and EXCITING event! Thank you for supporting our students and school!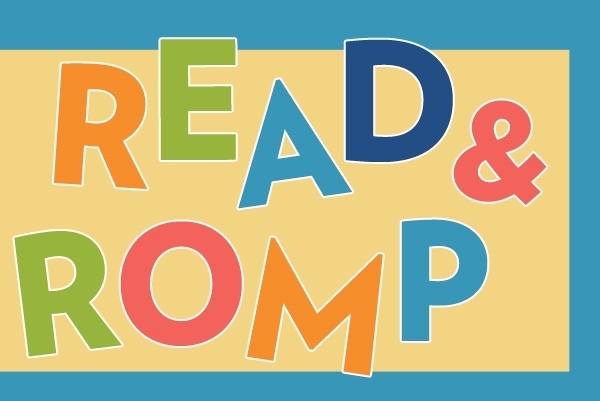 Hamilton After Prom is hosting a Fish Fry on Friday, April 15th! Come join us! This will help fund the after prom party. Thanks for your support of our high school students!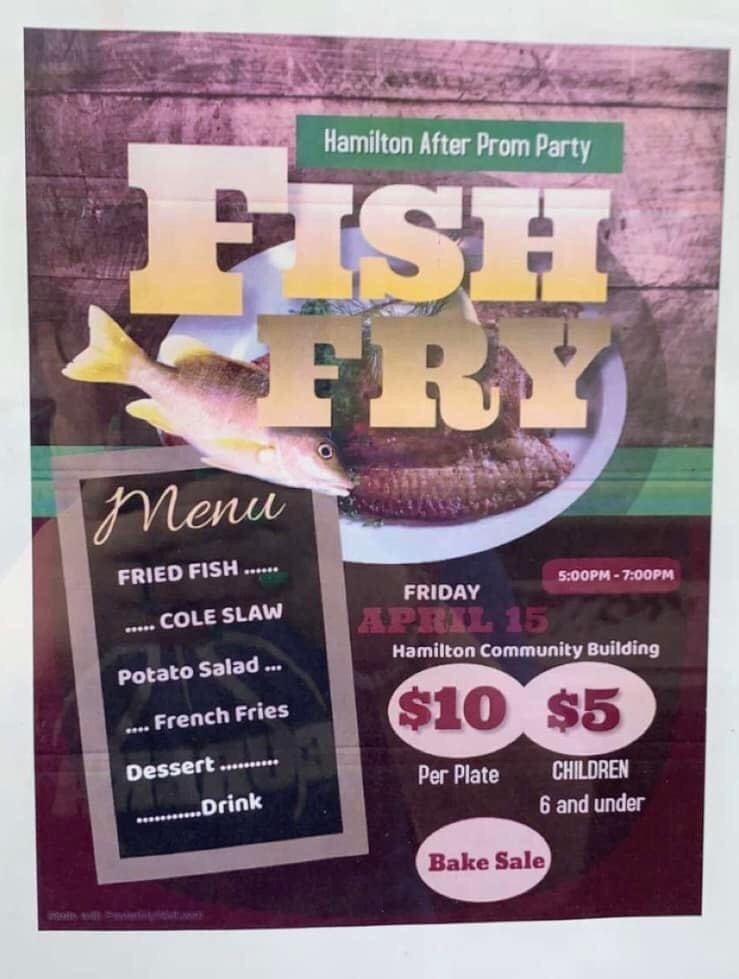 Hamilton Jr. Carnival is this coming Saturday, April 9th starting at 5:00pm downtown Hamilton! Come enjoy fun games, great food and fellowship! We can't wait to see you in Hamilton!

Good morning! 8th Grade is doing a Rada Cutlery fundraiser to assist with graduation and class trip expenses . If you are interested in looking at the products they have to offer, please visit the following link. Thank you for supporting our students!
https://radafundraising.com/?rfsn=6494635.67a8db

Come celebrate with us!! High school Athletic banquet will be Monday, April 25th at 6:00 pm at the Sauder Center in Madison. All athletes eat free and parents/guests can purchase tickets for $14 each. Please call the high school office to purchase those. 678-3651. Meal catered by Olpe Chicken House

Good morning! Just a reminder the career fair is going on this evening from 5-8 pm in the gymnasium. This is open to all high school students and their parents. Over 25 careers will be represented. Please come visit and ask questions that you may have. FREE hamburger meal to all students and their parents! We can't wait to see you!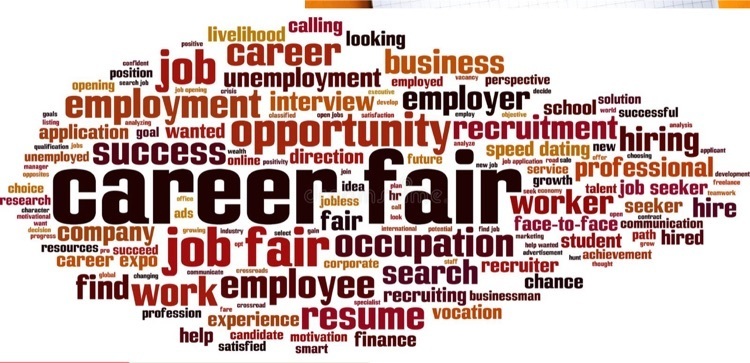 Hamilton schools will be hosting a COUNT YOUR CHILD IN free developmental screening for children birth-5 years on Wednesday, April 27th at Hamilton Elementary in the school library. If your child is interested in attending Hamilton preschool for the 22-23 school year, we request your attendance at this screening as part of the pre-enrollment requirements. Appointments can be scheduled by calling 678-3651. We hope to see you on the 27th!

Good afternoon, Tiger family! On Wednesday evening from 5-8 pm HHS will host a career fair in the gymnasium with over 25 careers being represented. Students and their parents will have the opportunity to visit one on one with those in the field and ask questions about training, salary, benefits, job opportunities etc. A FREE hamburger meal will be served to all students and their parents attending. Extra credit is also available for those who attend. We hope you will plan to join us Wednesday evening from 5-8 pm! Great opportunities await!

Make plans to attend the Junior Carnival this Saturday!! Games will take place downtown Hamilton from 5-7 p.m., with the auction to follow. Hamburger and hot dog meal deals will be available. We look forward to seeing you all and thank you for your continued support in our school and students.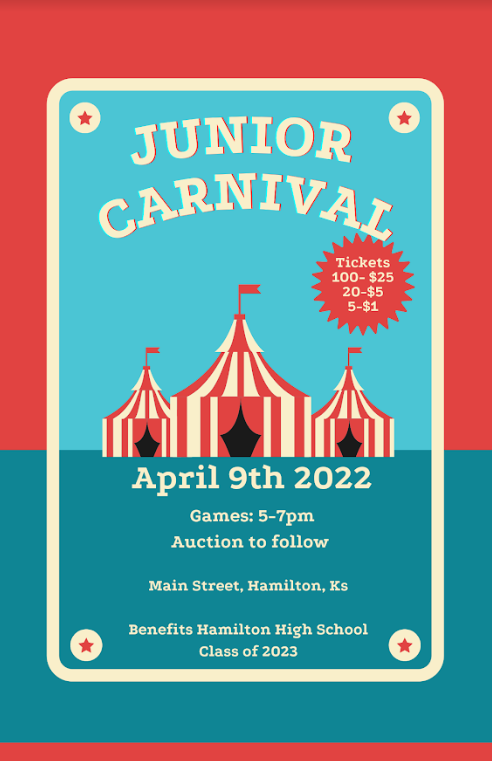 We started back to school after spring break with a BANG! Mr. Jim Porter from KSDE was here to present our high school students with the Challenge Award for the 20-21 school year!! The Challenge Award recognizes schools that are making outstanding achievement and uncommon accomplishments based on Kansas reading and math assessment results despite facing significant challenges in the school population. We are super proud of our kids, teachers and school for receiving this award!!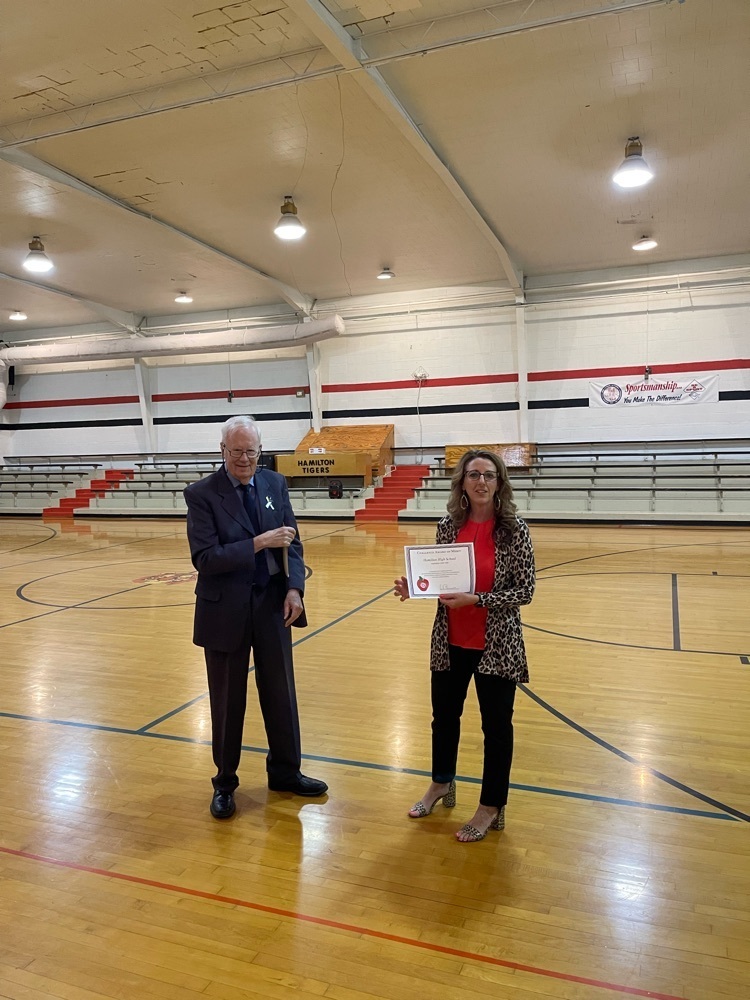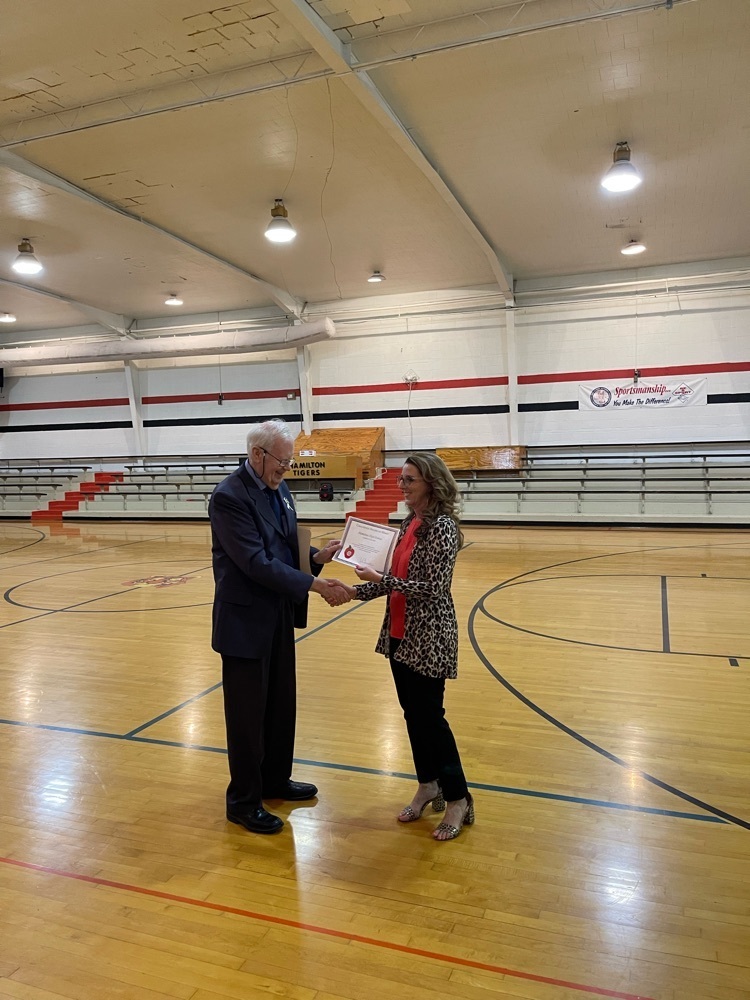 Are you interested in teaching small class sizes and working in a positive, supportive and rewarding environment? Are you an educator who has a passion for teaching, kids and learning? Hamilton Schools is looking for energetic, self motivated and hardworking individuals to join our team for the following positions in our school: 7-12 Language Arts Prek-12 Music Please send resume and cover letter to
snelson@hamilton390.net
. Thank you!

It's game day! Come out and support our high school boys as they play first round of sub-state vs Oswego at 2pm in Madison! Throwback jersey theme! Bring the noise!!

Good afternoon, Tiger Family! Tonight's substate HS boys basketball vs Oswego @ 6 pm has been postponed. The make up game will be determined at a later date. Have a great day.

Hello Tiger Family!! We welcome you to come out and support our boys this evening in the first round of sub-state! Game start time has been moved up to 6:00pm in Madison! See you there!