USD 390 owes a HUGE THANK YOU and BEST WISHES to two of THE BEST ladies who have spent a combined 50+ years serving Hamilton Schools. Suzan and Dana have poured their hearts and souls into the lives of many children, staff members and the school in general and we could not be more thankful! Thank you to these two ladies! You will be GREATLY missed and we wish you nothing but the BEST!! WE LOVE YOU!❤️❤️❤️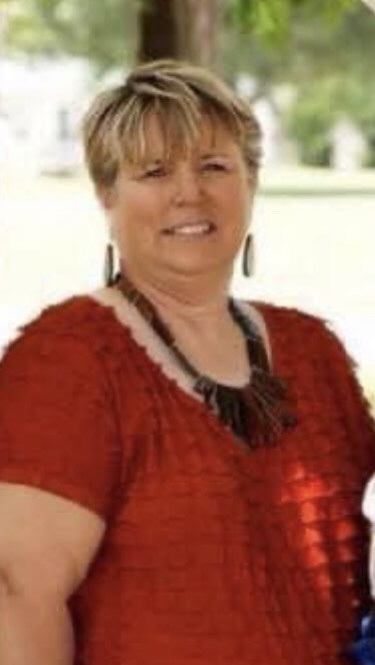 Hamilton is currently seeking a JH/HS Social Studies Teacher, a PreK-12th Grade Physical Education Teacher and an Office Secretary for the 2021-2022 school year. For more information, please contact Dedra Stutesman @ 620-678-3244.

Tonight we celebrate kindergarten graduation!! Graduation will be at 6:00pm in the gymnasium.

Reminder the school music concert is tonight at 7:00 pm. We would love for the community to join us in celebrating the students hard work.

Driver Education class scheduled to begin July 6th. Contact Dedra @ 620-678-3244 to get your child signed up.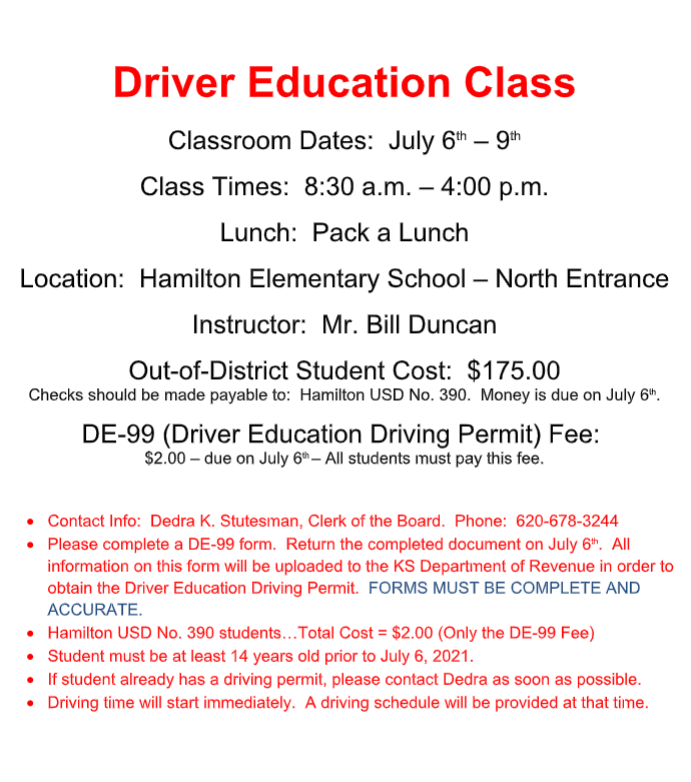 School Physicals: Hamilton USD #390 is not providing school physicals this year, so it is up to the student athlete. The school physical still needs to be completed and turned into the Hamilton High School Office before the 1st practice or prior to any summer activities: (football, volleyball, basketball or cheerleading camps) You will need to contact your family physician or contact Dr. Sarah Burke at Burke Chiropractic @ 620-583-5060 to set up an appointment. Dr. Sarah Burke is in Eureka at 203 N. Main Street and the cost will be $10.00. Physical forms will be left at her office. Physical forms may also be picked up in the high school office until May 27th.

Reminder: Prom activities will begin at 5:45 tomorrow with dinner being served in the school cafeteria. Promenade is taking place downtown Hamilton, in front of the community building starting at 7. Pictures will be taken prior to the dance and can be purchased at the following prices. Forms will be completed and payments made when photos are taken. Please send payment with your child if you wish to purchase pictures. Wallets (set of four) - $1.65 4x6" - $0.26 5x7" - $1.65 8x10" - $3.30 8x12" - $4.30

Coming Soon.....Cow Poop Bingo!! The Hamilton Freshman class will be holding this event on June 19th during Hamilton Days! It is $20 to purchase a numbered ticket, with only 121 tickets available. The winning number will receive a $500 CASH PRIZE!!! Tickets are being sold now, so be sure to grab yours before they sell out! You can contact the Freshman Sponsor, Renee Jones at
rjones@hamilton390.net
or (620)583-0177 for more information or to get in touch with a freshman to purchase your tickets. Thank you all for your continued support!!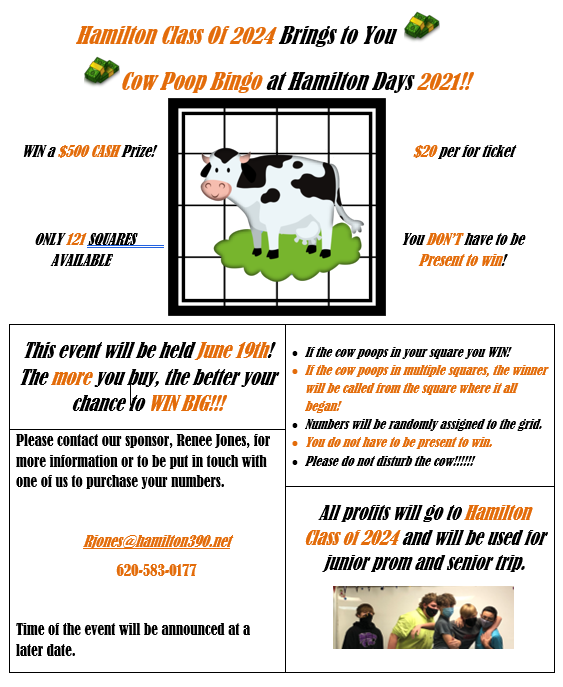 Due to predicted weather conditions for this Friday, the Hamilton Junior Carnival is being postponed until Friday May 7th. Same time, 6-8 pm with a live auction to follow. Same place, Downtown Hamilton. We look forward to seeing you all there. Thank you for your continued support of our school and students!

Hamilton Prom will be held on May 1. Dinner will be served @ 5:45 pm at the school cafeteria. Promenade will take place downtown Hamilton this year, in front of the Community Building beginning @ 7:00 pm. The dance will follow promenade and will conclude @ 10:30 pm. Students will then travel to All Star Sports in Wichita for the after prom party, with an expected return time to Hamilton being around 4:30 am.

Hamilton is currently seeking a JH/HS Science Teacher for the 2021-2022 school year. For more information, please contact Principal Lee Baldwin @ (620)678-3651.

The Lions Club Awards Banquet will be held on April 26th @ Madison. Hamilton High School Athletic student's meals will be paid for by the Madison Lions Club. Parent meal tickets are $11. If you wish to attend please contact the Hamilton High School office @ (620)678-3651 to sign up, before April 15th.

Reminder: Picture retakes will be tomorrow, along with class pictures. There will be no spring pictures this year.

Count Your Child In! Free development screening for children birth to age 5 will be held on Friday April 9th. Please call Suzan @ (620)678-3410 to schedule your child's appointment, before April 1st.

The Hamilton After Prom Committee is now taking orders for the Smoked Pork Ribs fundraiser. To order, you can contact Melissa Woodie @ 620-255-1754 or Jenny Rayburn @ 620-437-7345. 1/2 a slab is $10 and whole slabs are $20. Pickup for the ribs will be after 1:30pm on April 10th at the former location of Linda's Diner. All proceeds go to the After Prom Party. Thank you all for your continued support of Hamilton Students!!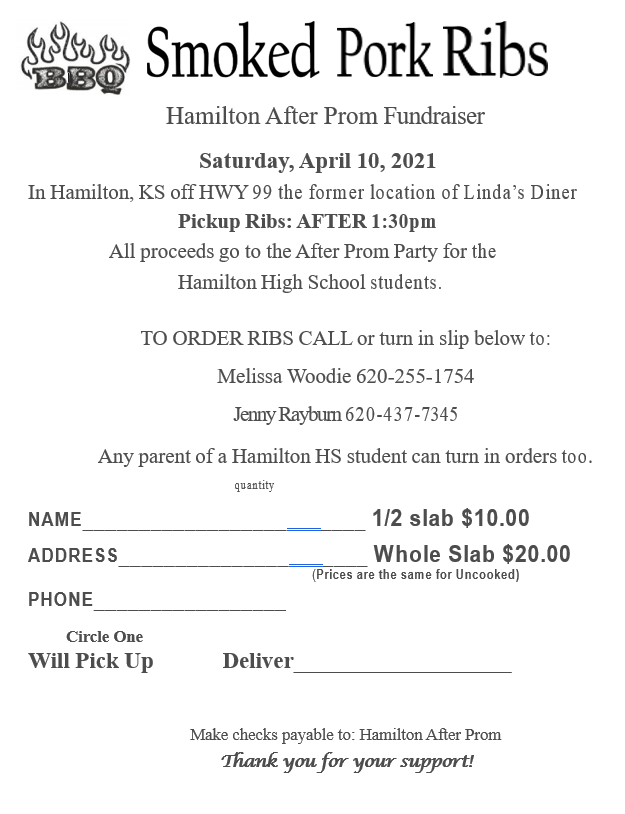 Picture retakes will be March 31, along with class pictures. There will be no spring picture this year.

Spectator information for Sub State Basketball Tournament.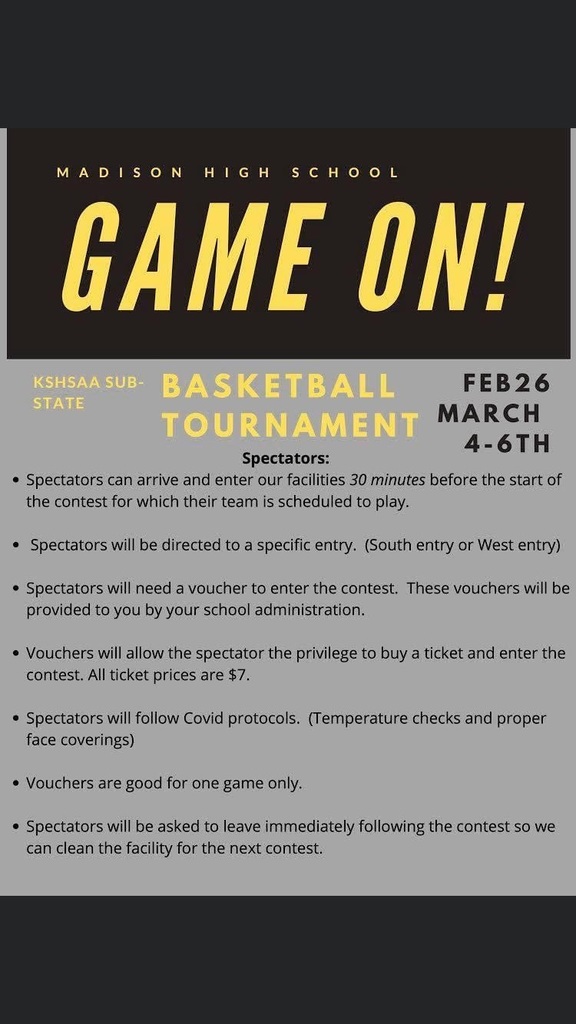 Madison-Hamilton boys Basketball Sub State Bracket.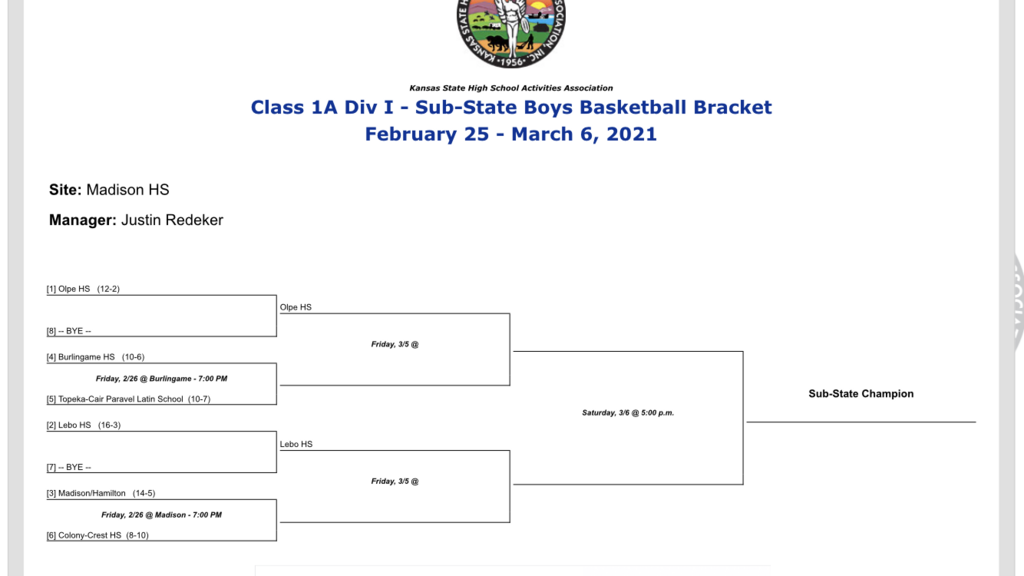 Reminder that school WILL be in session this Friday, February 26th.